This holiday season impress your friends and family with a beautiful and delicious charcuterie board filled with different types of meats, cheeses, fruits, spreads and seasonal goodness!
Charcuterie boards are gaining in popularity and are an amazing addition to any party or gathering. The contrasting flavors, colors and textures are a true delight to both the palate and the eyes. However, making an epic charcuterie board might seem a little overwhelming. Once you find the courage to let your creativity flow, you'll be amazed of how gorgeous your charcuterie board can be.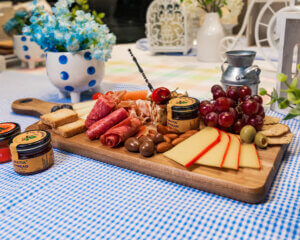 We've gathered a list of ingredients and dishes to help you get started with that epic charcuterie board:
Wood board: any shape and size. You can use wood cutting boards, marble or ceramic platters or a slate board.
White or clear small dishes: serving plates, bowls and spoons. If you don't have any, try antique stores for some unique finds.
Get a good mix of cured meats and cheeses. The meats can vary from mild to spicy, such as Prosciutto, Salami, Pepperoni, Calabrese and Sausage. The cheeses can vary from soft to sharp, such as Cheddar, Gouda, Brie, Provolone, and Havarti, to name a few.
Find colorful olives, spicy and sweet pickles. Don't forget the jams! Spicy and sweet jams pair perfectly with cheese and crackers.
Fresh fruits, such as blueberries, raspberries and grapes make a great addition.
Dried fruits and nuts help fill in the gaps. Try dried apricots and pineapple, pistachios, candied nuts, and seeds for a nice variety.
Look for different shaped and flavored crackers. Square, round and rectangle crackers can be stacked or fanned to your liking.
During the holidays you may be inspired by seasonal ingredients to give your board a cozy and festive feel. Chocolate covered pretzels, seasonal cheeses like a cranberry sharp cheddar, Christmas shaped wood board, fresh pine to place around the outside of the board, seasonal marshmallows, caramels and peppermints, are just a few ideas that will help you turn your charcuterie board into a Holiday platter for all to enjoy.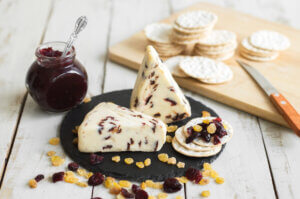 Once you have all your ingredients and dishes, start putting it all together:
Place small bowls first to help visualize the overall design. However, fill the bowls with the spreads, olives or pickles later. The spreads will taste and look fresh if added right before serving the board.
Place the cheese, separated by type, in different places.
Next, place the crackers and breads close to the cheese.
Add the meats close or tucked in by other items on the board so that they stay put together and rolled in place.
Next, add any fruits throughout the board to balance the colors and visual weight of the board.
In the remaining gaps, fill in with extras. This can be square or round chocolates, fresh herbs, nuts or seasonal ingredients.
For some finishing touches, add some twinkle lights around the board or any other holiday décor that makes your heart happy.
Remember to have fun and enjoy the process of making your charcuterie board. Your guests will absolutely love it!