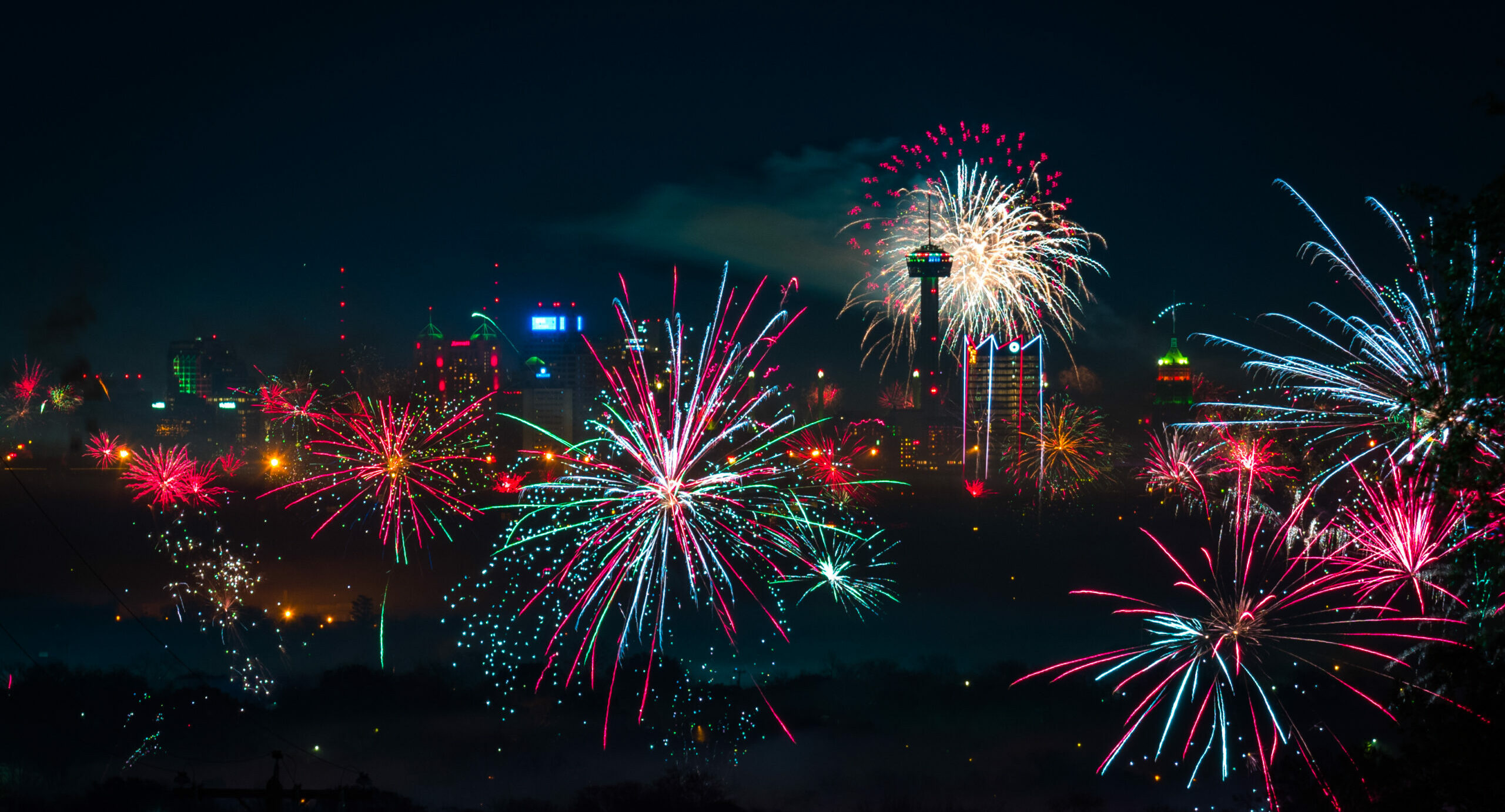 Fourth of July is around the corner, and we have compiled a list of places to enjoy concerts, parades, amusement parks and firework displays in San Antonio and the surrounding areas to celebrate America's Independence.
San Antonio
The City of San Antonio and San Antonio Parks Foundation will hold its annual Fourth of July celebration at Woodlawn Park from 11 a.m. – 9:30 p.m. This is a free event and is open to the public. There will be live music, vendors, food trucks, and carnival games. At the end of the night, the celebration will end with a spectacular fireworks show. Learn more
SeaWorld San Antonio
Enjoy the Fourth of July at SeaWorld. Spend the day watching shows and riding rides. Fireworks will begin at 9:45 p.m. This fireworks display is free with admission to SeaWorld. Learn more
Six Flags Fiesta Texas
Six Flags offers four different opportunities to view fireworks. Spend the day at the amusement park July 1st – 3rd and view the Lights of Liberty Drone and Fireworks Spectacular at 9:15 pm each night. On the Fourth of July, spend the day at the amusement park and experience their huge celebration, The Rock the Fourth Drone & Fireworks Extravaganza celebration at 9:15 pm. The fireworks shows at Six Flags Fiesta Texas are free with admission. Learn more
Leon Valley
The Fourth of July celebration begins with a 5k run/walk at 6828 Poss Road at 7:30 a.m. on July 4th. At Raymond Rimkus Park, there will be food trucks and vendors from 6:30 – 9:30 p.m. The fireworks show will begin at 9:30 pm. Learn more
Boerne
Boerne will be holding its annual Independence Day fireworks show at the Kendall County Fairgrounds and Champion High School. Fireworks begin at 9:15 p.m. on July 4th. Admission is free. Learn more
Helotes
Visit the Helotes Festival Grounds on July 3rd, at 12210 Leslie Road for their Independence Day celebration. The fun starts at 4 p.m. and fireworks start at 9:15 p.m. Admission and parking are free. Learn more
Schertz
Kick off the Fourth of July with a 5k run/walk at 9:15 am and parade at 9:30 a.m at the Schertz Dog Park on July 4th. There will be a children's carnival at Thulemeyer Park starting at 11:00 a.m. Enjoy live music at Pickrell Park at 6 p.m. The fireworks show will begin at 9:15 p.m. Learn more
New Braunfels
Experience the Fourth of July in New Braunfels. The firework show begins at 9:15 p.m. and will be at Landa Lake. You can view the firework show from the Fredericksburg Baseball Fields, Landa Park Golf Course at Comal Springs, or Landa Park. Admission is free. Learn more
The Schrader Group of San Antonio is one of the Top Real Estate teams and the name to look for when trying to buy or sell a home in San Antonio or any of the surrounding areas. With over 40 years experience we can handle every need you may come across, from selling your home, buying your home or purchasing a new build. Let us be your guide and contact us today!