Welcome to the best golf destinations in San Antonio and the surrounding area. With many outstanding public and private golf courses, residents and visitors have plenty of opportunities to play this relaxing and sometimes challenging sport. From beginners to professional golfers, players of every skill level can enjoy a premier golf experience. As the host of the PGA Tour's Valero Texas Open and the Champions San Antonio Championship, San Antonio's golf landscape falls nothing short of an elite golf experience.
We've gathered a list of some of the best public and private golf courses that stand out for their location, range in difficulty, and amenities.
Public Golf Courses
The Alamo City Golf Trail offers 8 unique public golf courses throughout the city:
Brackenridge Park Golf Course
2315 Avenue B, San Antonio, Texas 78215
(210) 226-5612
Olmos Basin Golf Course
7022 McCullough, San Antonio, Texas 78216
(210) 826-4041
Cedar Creek Golf Course
8250 Vista Colina, San Antonio, Texas 78255
(210) 695-5050
Riverside Golf Course
203 McDonald, San Antonio, Texas 78210
(210) 533-8371
Mission del Lago Golf Course
1250 Mission Grande, San Antonio, Texas 78221
(210) 627-2522
San Pedro Grill Driving Range & Par 3
6102 San Pedro, San Antonio, Texas 78216
(210) 349-5113
Northern Hills Golf Course
13202 Scarsdale, San Antonio, TX 78217
(210) 655-4148
Willow Springs Golf Course202 AT&T Parkway, San Antonio, Texas 78219
(210) 226-6721
For more info https://www.alamocitygolftrail.com/san-antonio-golf-courses/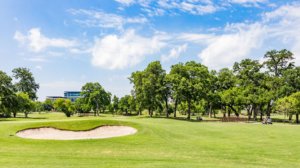 Hyatt Hill Country Golf Club – Located in the Far West side of San Antonio, golfers enjoy 200 scenic acres at this 27-hole championship course designed by legendary Arthur Hills and Associates.
The Quarry Golf Course – Centrally located, this historic golf course dates back to 1908. Revitalized in 1993, playing on this course is playing a part of history.
Windcrest Golf Club – Just 10 minutes northeast of downtown, this 18-hole course is lined with 4,800 yards of greenery to make your shot a bit more interesting as you navigate through the trees.
Private Golf Courses
If you are looking for a private golf course membership that provides exclusivity and added benefits, consider looking into one of these premier golf courses:
TPC San Antonio – Home of the PGA Tour's Valero Texas Open and the Champions San Antonio Championship, this course offers its members two PGA TOUR championship-caliber golf courses, The Oaks and The Canyons, and luxury amenities at the adjoining JW Marriott. A membership here also grants you access to TPC Network Privileges.
Cordillera Ranch Jack Nicklaus Golf Club – This breathtaking course is located in Boerne, TX. Revel in the sites and sounds of the Hill Country on this 7,450- yard course nestled next to the Guadalupe River Valley.
The Dominion Golf Club – Former host of the Senior PGA tour, this graceful course offers a remarkable experience for its members, plus many amenities and summer camps fit for all ages and skill levels.
La Cantera Golf Club- Located north of San Antonio, this golf club provides breathtaking views of the Hill Country and downtown San Antonio. Ranked #2 on the "Top 30 Resorts in North America" and among the "Top 50 Golf Resorts in the U.S." by Conde Nast Traveler.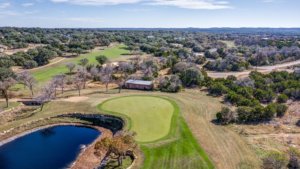 River Crossing Golf Club – Located in Spring Branch, TX north of San Antonio, this course maintains an excellent condition year around and prides itself on exceptional service.
Vaaler Creek Golf Club – Located in the Rockin' J Ranch in Blanco, TX. As one of the newer golf courses in the area, this course is gaining recognization as the #11 "Best Courses in Texas" by Golf Advisor in 2019, and the #10 "Best Course Conditions" in the USA by Golf Advisor in 2015.