Spring and summer are typically the busiest seasons in real estate, but selling in fall presents some unique opportunities that make it a great time to sell your home.
Less Competition
During the fall months, the market tends to be less competitive, which provides home sellers an advantage. With fewer homes for sale and less competition, sellers have more power to sell on their own terms. Home buyers have less options, possibly making your home desirable to multiple buyers. And, this is the time of year that serious homebuyers are eager to settle into a new home before the holiday season ramps up.
Serious Buyers
Whether in a lease, relocating due to work, experiencing life changing events, or another circumstance, people looking to move this time of year have desired deadlines they must fulfill. In today's market, as a pre-owned homeowner, you have an advantage, as buyers may be under a time crunch to move eliminating the option to purchase a new construction home. And, the great news is that interest rates are still low, making now a great time to buy.
Cooler Weather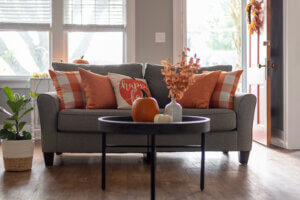 The fall months are characterized by milder temperatures and shorter days. As a home seller, this allows you to create a welcoming atmosphere in your home as you prepare it for showings. People enjoy getting out in the cooler weather to explore and how exciting to go house hunting at the same time.
End-of-year Sales
Starting Labor Day weekend, end-of-year sales are a great way to take advantage of the reduced prices to outfit your home to list for sale. This gives you an opportunity to finish home projects or start a new one that will improve the condition of your home.